18 Nov

What's It Like to Take a Cruise?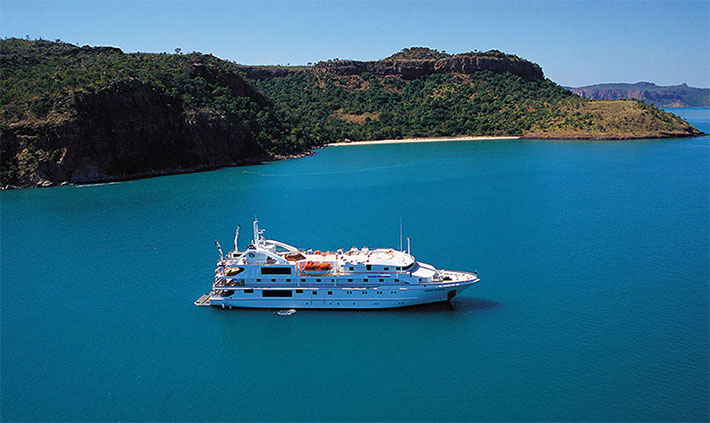 Whether it's a month-long journey around the world or an idyllic river voyage through the Kimberley region, a cruise is arguably the best way to experience the world. In many ways, cruising is travelling without any of the headaches involved. You get to settle in one room and wake up each day in an entirely new destination. Here are some cruise basics for first timers, so you can understand what it's like to take a cruise and why to many it represents the best form of travel.
Your hotel travels with you
One of the best things about a cruise is that you get to sample a range of different locations, all without the hassle of having to find your own way there. Take your hotel with you and wake up somewhere new, ready for adventure.
Everything is organised for you
On a cruise, you don't have to worry about what you're going to do tomorrow. Making plans, studying maps and booking accommodation go out the window, so all you have to do is take everything in and enjoy what that comes your way.
You'll take in the natural surroundings
A cruise is such a relaxing and serene way to travel. At any point in time you can revel in the open air and its fresh, sea breezes. Soak up the surrounding silence, where you're free from pollution, cars and hustle and bustle, just for a little while.
You won't be starved of entertainment
You may think you'll get bored when 'stuck' aboard a ship for a few weeks, but the reality couldn't be further from the truth. Cruise ships often have jazz clubs, night clubs, comedy rooms, theatres, and bars for a quiet drink on deck. Plus, you'll stop off in amazing locations to explore throughout the day. Even if you are embarking on the cruise solo, don't worry – there really isn't a chance that you'll run out of things to do with your evenings, and you might just find you get to meet some likeminded travellers while you're on board. Good friends are easy to find on a cruise!
There's lots of food – but also a lot of health and fitness options
If you like food, you're going to love cruising and the standard of the cuisine on offer when you embark upon your trip. That being said, there are often plenty of health and fitness activities available – from gyms to fitness classes – which should help even those who are most indulgent at the cruise buffet feel a little less guilty about their level of consumption on-board.
You will get a sense of the places you're visiting
Many people steer clear of cruise vacations because they feel that they won't be able to feel the true essence of the place they're visiting, but in reality this couldn't be further from the truth. At the very least, many cruise ships offer port excursions that allow you to explore your surrounds, while others offer extended stay options. In some cases, cruising actually allows you to get more access to the places you visit than you'd otherwise be able to. A cruise through the Kimberley, for example, allows tourists to explore many parts of Australia that would be prohibitively restrictive to access by car or plane.
It probably won't be your last cruise
It doesn't take a lot to become hooked on the cruising lifestyle, and when you mix and mingle on-board you'll find many of the passengers have tried cruising at least five or six times before. And it's quite understandable. Travelling the world in luxury is definitely an addictive experience! Cruise lines are constantly changing their itineraries and expanding to new routes, covering waters previously uncharted by cruise ships – so you're never going to run out of options when you're deciding on a destination to cruise to.