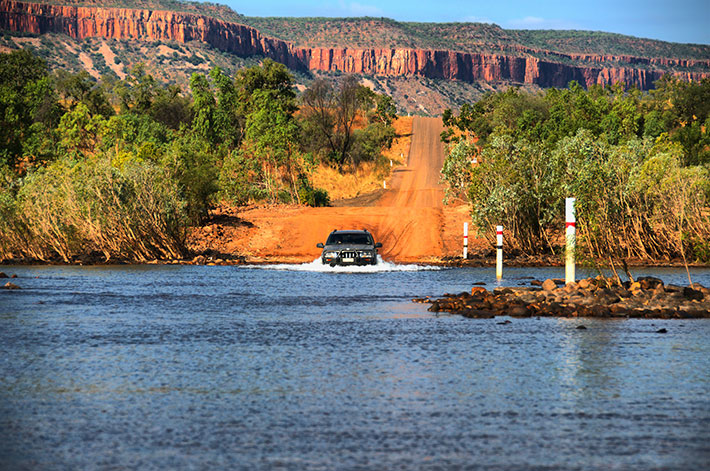 28 Jul

Exploring the Gibb River Road

Between Derby and a little spot about halfway between Wyndham and Kununurra stretches the Gibb River Road, a 660 kilometer gravel and dirt track that provides one of the greatest 4-wheel drive adventures in the world.

Set alongside the Gibb River, home to sweeping outback vistas, and resplendent with unique flora and fauna, the Gibb River Road is a showcase of natural Australian beauty, and the perfect example of the untapped wilderness of the Kimberley region. Plus, you'll be able to catch a glimpse of early Australian history in the form of rock art and cultural tours in the area.
Planning your trip
Nobody wants to be caught out bush without a plan. Preparing for your journey includes some fun bits, like exploring your destinations and finding the perfect travel itinerary, and also the boring bits such as packing, safety, preparedness, and road prep.
Keep in mind that the Gibb River Road is dirt and gravel. While it's not unheard of to see some daring locals flooring it in an old ute, you're going to want a tough 4WD for the job.
This is especially important if there's been any rain, since taking the Gibb River Road is going to almost certainly make you cross a couple of fords.
The other thing you're going to really want to consider is the time of year. The dry season is perfectly fine for driving, with minimal crossings needed, but during the wet season there's quite often area closures (which will cut you off from visiting some of the gorgeous canyons) and flooding across the track.
The track
The Gibb River runs alongside the track, never quite crossing it, meaning that there's a lot of large bodies of water. There's also a plethora of canyons and gorges, and it's these two things combined that gives the Gibb River such a reputation.
Without even deviating from the path, you'll come across natural waterfalls, towering gorges, rock pools, and watering holes carved out from the rock. It's what the Kimberley is famous for, and it's a place remote enough – and far enough off the beaten track – to still be pristine and untouched by humans.
The basic pathline goes from Derby to the Kununurra/Wyndham junction, but to get there you'll be heading through a few interesting places of their own.
Windjana National Park
Windjana contains one of the largest populations of freshwater crocodiles in Australia. For any dangerous fauna lovers, here's the perfect spot to whet your appetite. You'll be able to get close (though hopefully not personal) with crocs in the wild. Just remember to stay in the car!
If that's not your thing, the gorges around the park (especially Windjana Gorge) stretch as high as 100 metres above the ground. During the wet season, it's cut across by the Lennard River, but during the dry it'll shrivel down to some sporadic rock pools and lush greenery.
Windjana has plenty of camping spots and full facilities for anyone looking to camp there for a while.
Tunnel Creek
WA's oldest cave system isn't free to enter, but it's definitely worth the trip. It's a winding set of tunnels used as a base of operations by Jandamarra, a group of local aboriginal leaders who led one of the largest organised resistances against European colonisation of the land under Terra Nullius.
This one's a little more touristy, but you'll still be able to sit in the serene beauty of a natural, water-filled cave system steeped in Australian history.
Bell & Manning Gorge
Bell Gorge is commonly held to be one of the most magnificent of the gorges in the area, and in a place famed for gorges that's saying something!
However, it can also be jam packed with other people who've heard the same thing. If you'd prefer to find a less travelled, equally beautiful formation, consider visiting Manning Gorge. A little further out from Derby than Tunnel Creek, it's an old Aboriginal rock art site sitting by a gigantic waterfall. It's simply one of a dozen equally stunning adventures you can take in lieu of the crowds.
El Questro Wilderness Park
There's quite a few homesteads and wilderness parks around the area to stay in, all offering great views, service, and surroundings. El Questro is one of the larger, covering over 700,000 acres. While there you can enjoy activities like barramundi fishing, horse trekking, or exploring remote areas by helicopter that only a select few have ever seen.