19 Aug

Amazing Facts About the Kimberley Region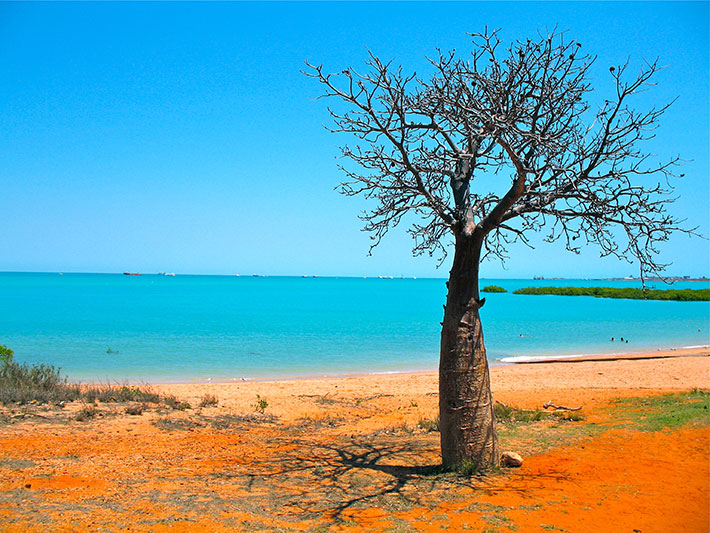 Wild and untouched, the Kimberley is a region of outstanding natural beauty. Its unique landscapes and pristine flora and fauna make this coast a worthy destination and a place like no other on earth.
We have compiled amazing and various facts about the region, which will no doubt have you itching to visit as soon as you can.
Location
The Kimberley is located in the north-western corner of Australia. The town of Broome borders the region in the west and Lake Argyle is located in the east.
The Kimberley is surrounded by: the Indian Ocean in the west, Timor Sea to the north, Great Sandy Desert to the south and the Northern Territory to the East.
Size
The Kimberly area covers 423,517 square kilometres. That is:
Three times the size of England
15% larger than Japan
Similar in size to California
Twice the size of the State of Victoria
Geography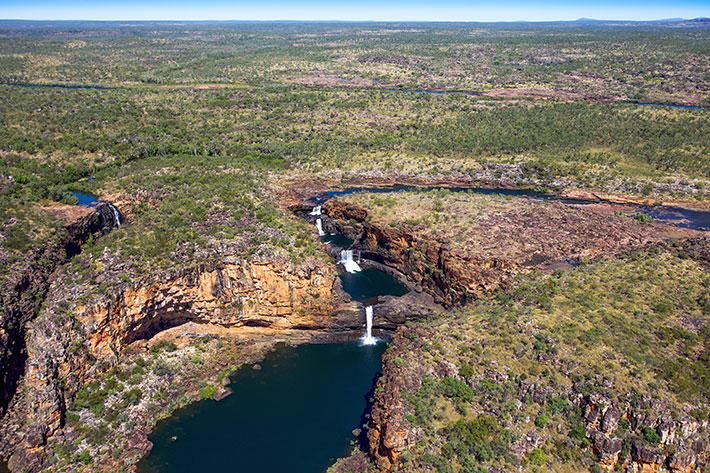 Mitchell Falls
Geography in the Kimberley region is characterised by stunning contrasts:
Deep rocky canyons and limestone caves
Volcanic residues, rocks and sandstone cliffs
Lakes and waterfalls
Dessert
Mountain ranges
River valleys
Rainforests
Hundreds of islands on the coastline and coral reefs
The Kimberley region is also home to several National Parks, including Purnululu, Miramar, Mitchell River, Tunnel Creek, Windjana Gorge, Drysdale River and Prince Regent.
Weather
In the Kimberley there is no summer, spring, autumn or winter. Weather in the region can be divided in two main seasons: wet and dry.
The wet season goes from November to April and dry season goes from May to October
Monsoonal rains are common during wet season
The dry season typically has blue skies and warm days
Average temperatures are generally above 30° C
History
The Kimberley region is believed to have been settled about 40,000 years ago by the "Macassan" people, from what is now Indonesia. Later, in the 17th and 18th centuries, Portuguese, Dutch and French visits were recorded to the area. However, the first official British explorer credited with landing on the Kimberley was William Dampier, in 1688.
The grasslands and plains were popular for Europeans to drive cattle in the mid 19th century
The gold rush of 1886 brought more European and Chinese immigrants to the area, and with pearl fishing becoming a major new industry, Japanese and Malay immigrants arrived too
By the end of the 19th century, missionaries came to the area, teaching new practices and beliefs
Population
The population of the Kimberley area is about 40,000 people.
Half of that number has indigenous descent
The population growth rate is quite high (2.5%) compared to Western Australia (1.4%)
The median age is 28 years
The main town where most of the population live are Broome (14,500 inhabitants), Kununurra (6,500 inhabitants) and Derby (4,500 inhabitants).
Flora & Fauna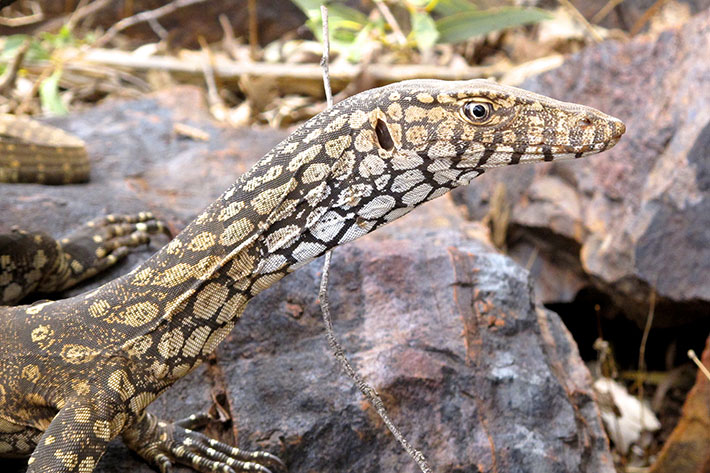 Because of its large size and geography, the Kimberley is home to a number of unique species of wildlife. The area hosts around 72 native mammal species, 295 bird species, 178 reptile species and 51 amphibian species.
Salt-water and freshwater crocodiles are to be found in rivers, as well as other reptiles
Six of the seven marine turtle species live on the Kimberley's coast, as well as two of Australia's unique dolphin species: the Snubfin and the Australian humpback dolphin
Numerous bird species (including the Gouldian Finch), marsupials (such as small rock wallabies, bilby and nocturnal rats), amphibians, fish and insects are also present
Many species face extinction due to feral animals (such as Dingoes) and mining and tourist activity
The most common trees are Eucalyptus and Boab
The Kimberley Coast is the nursery for 22,000 humpback whales, who come every year and gather between Broome and Camden Sound to give birth and feed, before starting their annual journey to Antarctica.
Driving distances
Here is some indication of driving distances if you're heading this direction:
From Perth to Broome: 2415 km
From Darwin to Kununurra: 820 km
From Alice Springs to Kununurra: 1726 km
From Port Hedland to Broome: 615 km
From Perth to Darwin (to cross the Kimberley): 4345 km (That's about five full days driving!)
From Sydney to Broome: 4885 km
From Melbourne to Broome: 4780 km
Threats
The region faces a number of serious environmental issues, such as climate change, feral animals, and bush fires, amongst others.
Major industrialisation and agricultural development practices by the Western Australian government could have a high impact on the wilderness in the area
Cattle stations eat all floras and do extensive damage to the soil, which leads to erosion problems
Introduced weeds outgrow local vegetation
Introduced animals like wild donkeys, horses, camels, buffaloes, cats and pigs are a direct threat to native fauna
The poisonous cane toad can be found in the area too, putting at risk goannas, crocodiles and other animals that prey on frogs
Rising groundwater levels and salinity are present due to agriculture and its evaporations systems
Illegal fishing damages the reefs
Bushfires starting due to unsupervised campfires
But not all is negative. Action has already been taken to help preserve this old and amazing Australian region, rich in cultural heritage. And thankfully, its beauty still remains unspoilt, attracting more and more visitors each year.